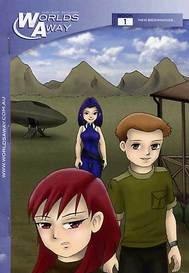 Worlds Away was David Kerr's first stab at comics and was published originally as a webcomic from January 2003 to July 2004, then as a series of comics serialised in Moshi Moshi, followed by a collected 170 page graphic novel in July 2004. The comic was put on hold with David's move to Japan that month, where he lived for 4 years.
Worlds Away is a light-hearted, easy paced story of Alex and his attempts to deal with some of life's bigger questions, while trying to handle the mischievous alien Anya who has taken up residence in his house.
The original webcomic is still available in its complete form online, continuing several chapters beyond the graphic novel compilation, at the Worlds Away website.
Kerr's other work includes Days of Asha in OzTaku.
External links
Edit
Community content is available under
CC-BY-SA
unless otherwise noted.