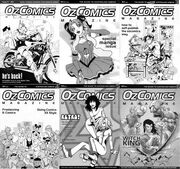 OzComics Magazine was a major Australian comics magazine edited by Darren Close and Mark Selan, branded with the OzComics name. Running for 6 issues, the magazine featured detailed interviews, articles and reviews about all areas of Australian comics, and was generally regarded as the successor to the earlier title, Comic Edge.
Writers included Liz Argall and Ian C. Thomas.
The natural successor to the magazine appeared to be Word Balloons by Philip Bentley.