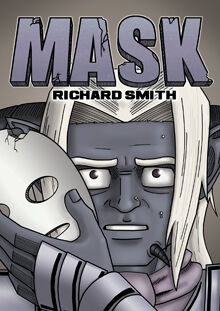 Mask is a graphic novel written and illustated by Richard Smith, published by Crystal Sea Studios in 2014. It follows the story of a young man named Crispus as he hides who he is and wrestles with identity in the face of social conformity.
Plot Synopsis
[
]
Set in a fantasy/fairy tale world, the story is centred around the romanesque city of Hypocrium. This city is militaristic and obsessed with both strength and beauty, and in this environment Crispus is forced to wear a mask that makes him look like everyone else to hide his true, monstrous appearance.
However, in a moment of anger and emotional honesty, his mask cracks, revealing to truth to all his peers. He is forced to flee into the surrounding wilderness and work through the consequences of want has occurred.
External Links
[
]