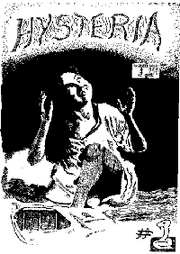 Hysteria was a black and white mini-comic made by Peter Jetnikoff in 1997. Issue 1, the only to be made, was a square-bound edition printed to 44 pages.
"You know , the translation of neuroses into physical diseases has always kinda hooked me. That whispering 'twixt brain and body is just so danged neat (tidy, I mean). Mostly, though, it's a damn fine analogy for story telling. See, I've already had a nervous rash so, these days, when something bugs me, I turn it into a comic." - Peter Jetnikoff
Road
Oblomov Says
The Day of The Mermaids
Shelter
Sarcophage: A Rortssen Adventure
Curse
Drugs & Letters
Community content is available under
CC-BY-SA
unless otherwise noted.