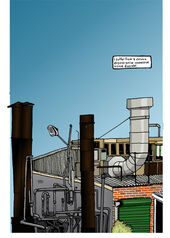 Gregory Mackay is a Melbourne-based comic artist.
His work is regularly featured in the French comic anthology Turkey Comics, published by The Hoochie Coochie. His feature-length comic Francis Bear was published in France by The Hoochie Coochie in 2010 and also launched at the Melbourne Writers Festival.
Gregory was part of the Caravan of Comics Australian cartoonists' tour of North America in 2013.
Illustrated self published books 1993-2004:
Waterdamage 1993 24 pgs Artists book Edition of 70
Fatigue Comic book 24 pgs First edition of 50.
Mokey Comic Book 24 pgs Edition of 80
Syndrome Comic Book 34 pgs 3 Editions 300 books
Terminal Comic Book 56 pgs 2 Editions 500 books
Malaise Comic Book 120 pgs 1 edition 50 books
Psychic Twins Comic Book 24 pgs 1 edition 300 books
Untitled Comic Book 48 pgs 4 editions 300 books
Deep Black Comic Book 36 pgs 3 editions 100 books
Arachnodactyly Comic Book 80 pgs 2 editions 50 books
Transition Pages comic book 24 pgs (Europe and Scandinavia only) 2005
A list of other publications is available on request.
Anthology and magazine contributions
[
edit
|
edit source
]
VCA Student Newspaper Editor/contributor 1994-1996
Farrago (Melb Uni) 1996 4 pgs
Catalyst (RMIT) 1996 Co-editor on one issue
XENU 1996 co editor/contributor
Book of Loud (Loud festival magazine) 1999
HQ magazine (1999-2002 feature articles)
Voiceworks youth magazine1998
Circumstantial Evidence (Interview and drawings) Melbourne 2000
Comic Edge Magazine (cover story article interview and drawings)- Melbourne 2000
Pure Evil comic book anthology issues 1-6 1998-2003
Silent Army Infirmary Collection 2003
Rijeka Museum Of Modern Art Comic Art Catalogue 2001
Noise Festival Anthology Collection 2002
Going Down Swinging 2002
MEANJIN literary journal 2002
Tango - Romance Comics contributed to issues 2, 3and 4 Edited by Bernard Caleo Melbourne 1999-2003
Pantry Comic book Anthology 2000
Nice Anthology 1999
THE PAPER Melbourne based alternative Newspaper 2002-2003
FOTON comic anthology. Serbia EU
Atomiser antology 2003. Syd
George Paton Gallery Melbourne University 1996 (group show)
Platform 2 Gallery Flinders st. Station 1996 (group show)
14th International Exhibition of Drawings- Comics Museum of Modern Art Rijeka Croatia
Public Office Melbourne 1999 (Solo) coincided with launch of Untitled comic book
Savage Pencils Exhibition (Group Show) Curated by Michael Hill, senior lecturer in design at The University Of Technology Sydney (UTS)
Comic Book Lifestyle. Linden Centre for Contemporary Art 2002 (group show) Co-curated and installed
Robert Jacks Drawing Award. Bendigo Art Gallery 2002.
Citylights Centre Place Gallery Silent Army Represents 2002(group show)
WestSpace Gallery. Paper skin 2002 (group show) Installed.
Westspace Gallery A4 Art Show 2002 (group show)
Northern Arts Project Space. LURE 2002 (group show)
Kelvin Gallery. Recent Paintings 2003 (Duo show)
Hush Hush Gallery From the Hands of Braddock 2003 (group show) Co-curated and installed
Linden Center for Contemporary Art. Postcard show 2003 (group show)
SPLEEN <upstairs> Recent Paintings 2003 (solo)
Artholes Gallery. Recent Photography. 2003 (group show)
Wyndham City Contemporary Art Prize 2003 (group show) Winner
Smorgon Steel Contemporary Art Prize 2003 (group show) Finalist
The Foot Square Exhibition. 341 Church st.2003 (Group Show)
Brett Whitely Travelling Art Scholarship Finalist exhibition
Practice in process. (group show) Noel Counihan gallery 2004
Gjestekunstner Open Studio LKV Trondheim Norway 2004
Recipient Ella Donald Memorial Fine Art Scholarship - 1996
Winner of the Wyndham City Contemporary Fine Art Award 3D section - 2003
Finalist Brett Whitely Travelling Art Scholarship - 2003
Recipient of the Guest Studio at the Lademoen Kunstlerwerksteder in Trondheim, Norway - November-December 2004
---
Community content is available under
CC-BY-SA
unless otherwise noted.