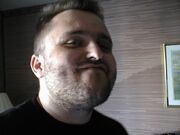 Cameron Davis is a cartoonist in Brisbane, Australia. He's also a video game designer, reviewer, publicist and makes a mean chocolate milk. He currently makes Blow The Cartridge and Funny Webcomic.
Davis created Plant-Man + Flowerin', a mini comic about the world's most ecologically-friendly super heroes, in the mid '90s and sold it in comic and record shops around Brisbane. The duo made their return in the Plant-Man website in 2007 and continued until 2010.
He is a regular contributor to Brisbane-based print anthology Groovy Gravy mainly because its editor is too polite to say no.
In 2008 he launched Funny Webcomic as a joke and for some reason kept it going for over five years. Funny Webcomic is a random assortment of topics, themes and characters that don't really have a home anywhere else. Popular strips from Funny Webcomic include Indy Game Developer, Presidog, Brendan Brewer Video Game Reviewer, Hive FM and Suburban Life Stories. 
In 2011 he launched Blow The Cartridge, a weekly webcomic about retro gaming, that continues to this day.
In 2012 he launched Hive FM, collecting all the strips about your local morning radio crew on the one site. 
The reason he makes so many comics that are in some way about video games is that he's spent most of his working life in the games industry. He started off as a game reviewer for local and international magazines and websites before moving into game development as a designer and publicist. To date the games he has worked on have sold several million copies and can be found in your local gaming store's bargain bin. He continues to keep his finger in the games industry and threatens to make another game if you lot don't behave. 
Cameron lists his major influences in his life as Dave Sim, Julian Rignall and Jeff Minter, for their ability to chart their own path and show him new options in life. 
Artistically he aspires to be one millionth as good as Terry Moore but realises that he shouldn't have read so many Bristish and American kids comics growing up because it's totally warped his style into this weird cartoony mishmash of Beano and Archie. 
Community content is available under
CC-BY-SA
unless otherwise noted.