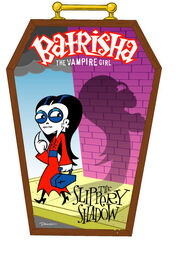 Batrisha The Vampire Girl is a comic strip about a bad-tempered eleven year old vampire posing as a foreign exchange student staying in Australia.
The comic is written and illustrated by Dillon Naylor and first appeared in print in monthly children's magazine K-Zone (in July 2001) and has appeared in nearly every issue since. Stories are usually between two and six page 'gag' pieces but occasionally run longer. The stories also appear in a number of K-Zone's international editions, sometimes translated or with slight dialogue changes.
Book company Five Mile Press released two coffin-shaped graphic novellas in 2003 containing new stories. The Strange Exchange Student tells the back-story of Batrisha arriving from Bloodisvostok, Europe to stay with the Payne family and hints at her sinister mission among the living. The Slippery Shadow is the story of Batrisha's wayward shadow who escapes after she is hit by lightning and tries to steal her life and friends away.
In addition to the K-Zone series and Five Mile Press books, Batrisha has appeared on a fashion line released through Target Australia and a short CGI animation.
External Links
Edit